Jack Daniels Pool Table Raffle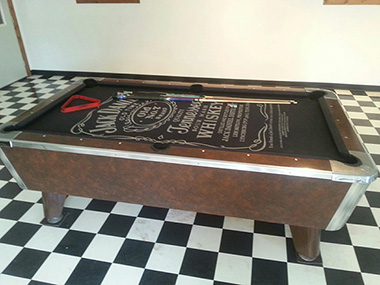 Get your tickets for your chance to win this gently used, coin operated Jack Daniels branded commercial pool table.
There are only 2500 tickets available for this unique and fun prize. One ticket has 1 in 2500 chances to win. Get the 5 for $20 deal and your chances increase to 1 in 500. Those are great odds.
Proceeds from the raffle go to support the Unlimbited Ski Program.
Rules:
Tickets can only be purchased in person, in the state of Montana.
Delivery is to a main floor location in Flathead Valley only. December 22 or 23, 2015
Outside Flathead Valley winners must pick up the table from Whitefish by December 31, 2015 or forfeit.
In the case of forfeit another name will be drawn from the tickets with delivery to a Flathead Valley main floor address to be arranged.
Tickets are $5 each or 5 for $20
Ticket sales are final and non-refundable
Purchasers must legibly write their name, phone number, address and (optional) email on each ticket stub.
Winner will be determined by random drawing on December 21, 2015 at 5PM MST and notified by phone.
Winner does not need to be present to win.
Purchasers of tickets, by participating in the raffle, release Vets-Help, Unlimbited, it's directors, officers, members, and agents from any and all liability, loss or claim arising out of any prize or service, expressly waive any such claim and agree that the liability, if any of Vets Help it's directors, officers, members and agents shall be limited to the raffle ticket price paid.
Vets-Help makes no express or implied warranty as to the Raffle prize.
Tickets not filled in at the point of sale can be sent to PO Box 5090, Whitefish MT 59937 to be received before Monday December 21, 2015.
Vets-Help / Unlimbited is not responsible for lost or misplaced tickets sent by mail.
Retail Locations
Northwind Shirt Company, Baker Avenue, Whitefish
Do you have a shop or location we can sell tickets at? If so please contact me as soon as possible!