2017 Season Has Started!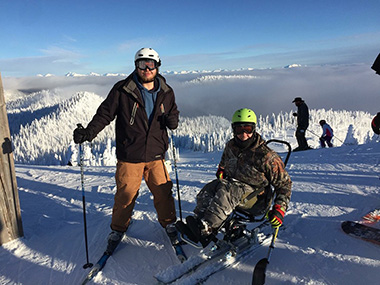 Opening day has come and gone, and while I'm not a huge fan of downloading, it's a great problem to have!
Equipment distribution to adaptive skiers has started, if you need gear, email me ASAP and I'll send you the available products list.
This year we've set up a disabled veteran, a cancer survivor, and a 3rd rider each with a pair of Ski-Mojo ski frames, 2 riders with 540 powder skis, 8 riders with ZeeGoggles Barkeater Goggles, a coach with a Forever Young snowboard, 5 skiers with Pret helmets and everyone is warm and toasty with pockets stuffed with YakTrax heaters.
Tristan and Bane, also known as Team Black and Red, are back this year, with Tristan riding on his renewed pass, skiing independently, riding the dualski, with the generous support of Sportsman & Ski Haus providing the perfectly fitted and tuned skis for him every week.
3 skiers are riding on passes, and 2 new skiers are planning to be ready to ride in January, 2018.
If alpine is not your bag, try snowshoeing. I have 3 pair of snowshoes and a set of trekking poles, so if you've always wanted to try it, now's the time.