2016 - 2017 Grants & Summary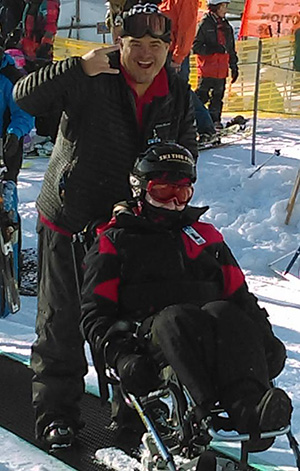 2017 started out great, with the best (and most) snow we've had in a long time.
With the generous support of the many 2016 / 2017 ski season sponsors, Unlimbited was able to fund 2 season passes and 11 skier days.
The skier days included a weekly scheduled private lesson for a junior skier and an Unlimbited member skiing independently.
The dual ski was used on all 11 ski days.
Tristan and Bane, also known as Team Black and Red, started skiing in January, with Tristan progressing from beginner to skiing independently by the end of the season. He also graduated to the been there done that school of skiing by falling into the pit on Chair 9. Matt joined on 3.
In January, Aloha Snowboards heard it was Bane's birthday and they hooked him up with a gorgeous new board.
Zee Goggles provided us with goggles for anyone who needed them, Pret and Bolle provided helmets and we stayed toasty with our pockets stuffed full of Yaktrax heaters.
On February 12, 2017 we lost our first and longest volunteer and ski buddy Chris Cordeiro to a heart attack. It was sudden and completely unexpected, and resulted in a lower than expected skier day and event count.