Everybody Rides
ARE YOU A DISABLED VETERAN COMING TO THE WHITEFISH MOUNTAIN RESORT TO SKI? If so, please contact me before you buy your lift tickets.
Everybody Rides is my adapted recreation support program that provides technical, practical and financial assistance to individuals, groups and resorts so people with disabilities can participate in recreational activities.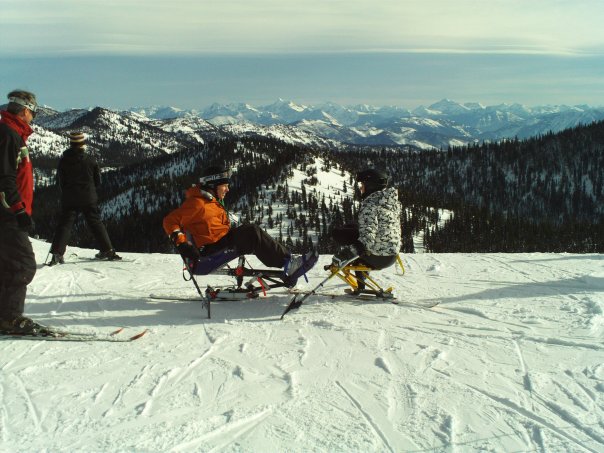 The program is based in Whitefish MT and operates on the Whitefish Mountain Resort. The cost of lessons (by Certified Adapted Instructors) and equipment rental for the adapted skier is covered by the program.
Funds to cover these expenses are raised locally and internationally through my network of friends and sponsors who provide financial assistance and arrange services in kind and from sales of unlimbited gear and the Ski For Good campaign.
Choose your cause - and SKI
Get your Ski For Good zipper pull today and support winter sports programs in the Flathead Valley, the State of Montana, across North America and beyond.
Show your Ski For Good tag at participating locations - look for the logo - and get great discounts and know those businesses, like you, care about the community.
And of course, the prize patrol - anonymous skiers with goodies to hand out to the first Ski For Good wearing awesome person they see!
ALL proceeds from the sale of Ski For Good promotional items go to the Ski For Good program! Get your SWAG and Party Tickets at participating locations.
Programs and Beneficiaries
I also have an ongoing crowd funding program on SocialArchitect.com to support Everybody Rides and the Purple Heart Veterans trip.
If you are an adapted skier and you're interested in skiing in Whitefish, please contact me and tell me a bit about yourself, your skiing abilities (don't worry if you have none) and your expected dates of travel to the area.